Sign up for our newsletter to receive emails about our upcoming events including Special Pricing, Special Class Offerings, Seasonal Celebrations, Festivals & Retreats, Concerts, Drum Circles, Children's Day Events,  and more!
Click here to reserve your spot today for any of our upcoming events!
Fridays at 7 PM, $10 per class 
July 12th – Air & Touch, July  19th –  Space & Hearing (Click Dates to Book Now!)
The entire universe is made up of the 5 Elements.  Wherever we go and whatever we see is a mixture of these five. In school we learned that water is H2O, but that tells us nothing of the experience of water; of its purpose, its life force, its power, and its essence.  The same hold true with our senses — without them, we would not experience life!  Why are they called Devas (gods), and what is their individual power and essence?
Each week in this five-week course (not consecutive weeks), we will explore  through meditation and specific practices one element and its corresponding sense.  With each meditation we will be diving deeply into the experience of these tattvas (principles of creation), and pierce through the conventional conditioning we were taught, bringing about a new awareness,  in which we can experience  our bodies and the natural world in a whole new way.  When these practices were taught to me decades ago by Guruma, they made a profound effect on my life, and radically changed my relationship to my body,  the elements and the world around me — moving from a mental state of taking everything for granted to that of awe and appreciation.  All the practices are easy to do and require no experience in meditation.
Saturday, June 22nd, 7:30 PM, $10
Sound is a way to access, dislodge and release the subtle impressions we hold within us.  The reverberations of the bowls amazingly can neutralize our thoughts and provide a focal point for clarity and concentration.
The sounds of the bowls provide a gateway to expanded consciousness.  Our intention opens the door.  Experience healing and tranquility through sound.
---
Sunday, June 23rd at 1:00 PM, $15
What is yoga nidra?  Yoga nidra is a state of consciousness between the waking state and the sleeping state.  The body is completely relaxed while the mind is fully conscious.  The sense of hearing is engaged to follow a guided meditation to maintain this state of awareness.  All of the other senses fall away in this deep state of relaxation.
In this class, we will begin with a gentle, yet invigorating posture practice and move into savasana and then into yoga nidra.  We will spend approximately 30 minutes in the practice of yoga nidra, so eat and drink only lightly before class if necessary, as to remain alert and aware throughout the practice.
---
New This Summer!
Free Beach Yoga Series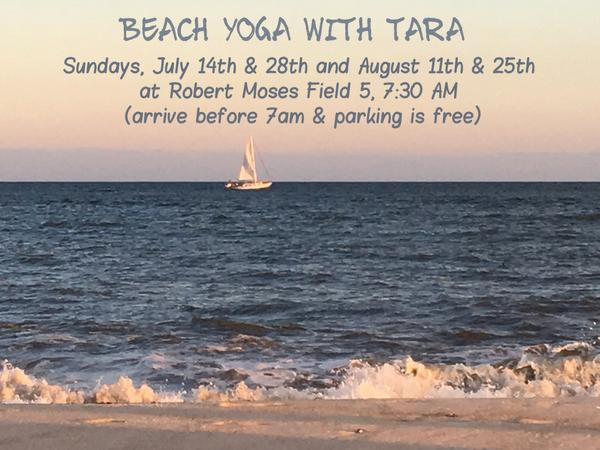 at 7:30 AM (Click Dates to Register Now!)
Robert Moses Field 5
(arrive before 7 AM and parking is free)
Classes will consist of yoga postures, yoga breathing and meditation.  We will end with a variety of meditation techniques utilizing our beautiful surroundings.  Feel free to bring a mat and sheet or blanket to place your mat on and any other items you may need.  You may want to dress in layers, it can be cool in the early mornings at the beach.  Also, feel free to pack whatever you may need to stay on the beach after class!  Food, sunscreen, etc…
Classes will be held at Robert Moses Field 5 (in our usual sunrise meditation spot) all the way to the furthest east entry point from the parking lot- so pull in and drive all the way to the left!
---
Sunday, July 21st, from 2 – 4 pm, $25
Join us for a period of silent practice, recommended to anyone who is interested in delving deeper into the inner realm of freedom.  Upon returning to daily life from a period of retreat one is renewed and more able to face the challenges of life with compassion and appreciation.
We will have a period of yoga postures (asanas) and yogic breathing (pranayama) interspersed with readings, followed by a period of meditation.  All welcome.
---