Sign up for our newsletter to receive emails about our upcoming events including Special Pricing, Special Class Offerings, Seasonal Celebrations, Festivals & Retreats, Concerts, Drum Circles, Children's Day Events,  and more!
Click here to reserve your spot today for any of our upcoming events!
MONTHLY FREE CLASS!  
Thursdays at 6:45 pm with Mary
---
Next Session Sunday, 8/11!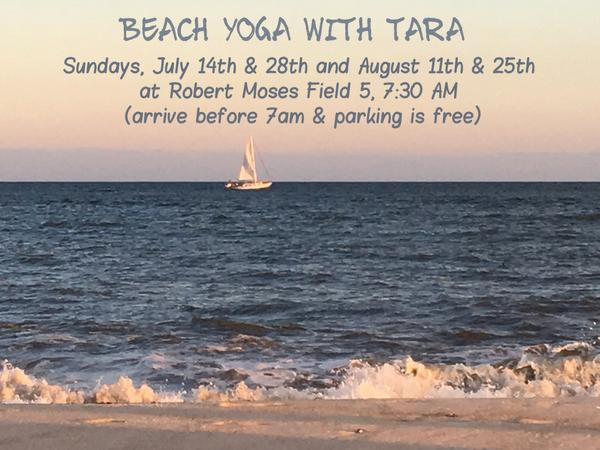 Robert Moses Field 5
(arrive before 7 AM and parking is free)
Classes will consist of yoga postures, yoga breathing and meditation.  We will end with a variety of meditation techniques utilizing our beautiful surroundings.  Feel free to bring a mat and sheet or blanket to place your mat on and any other items you may need.  You may want to dress in layers, it can be cool in the early mornings at the beach.  Also, feel free to pack whatever you may need to stay on the beach after class!  Food, sunscreen, etc…
Classes will be held at Robert Moses Field 5 (in our usual sunrise meditation spot) all the way to the furthest east entry point from the parking lot- so pull in and drive all the way to the left!
---
Sunday, Sept. 1st at 5:45 am
Our Annual Sunrise Meditation is Sunday September 1st, at Robert Moses State Park, Field 5.
We will meet at 5:45 am. We will do some asana, chanting and meditation and watch the sunrise. Bring food if desired, blanket to sit on and dress for the weather.  Sunrise is at 6:19 am.
There is no charge for parking at that hour and the meditation itself is free! If it rains, it is cancelled.
---