August 2019
MONTHLY FREE CLASS!  
Thursday, 8/8 at 6:45 pm with Mary
---
Surya Namaskar (Sun Salutation)
*NEW TIME 9:30 AM

In this month's Saturday morning class, along with our postures and meditation, we will focus our practice on Sun Salutation which is a series of yoga postures performed in a sequence, coordinated with the flow of breath.  In Sanskrit it is called Surya Namaskar.  Surya is one of the names of the sun.  Namaskar means "worship" or "honoring."  So, in its essence Sun Salutation is enacted not only as a physically beneficial "flow" exercise, but also as a spiritual "honoring" of the external Sun as well as the light of Consciousness within.  Through its practice one is drawn closer to inner peace and freedom.  Handouts will be given.  All are welcome.
---
Next Session Sunday, 8/11!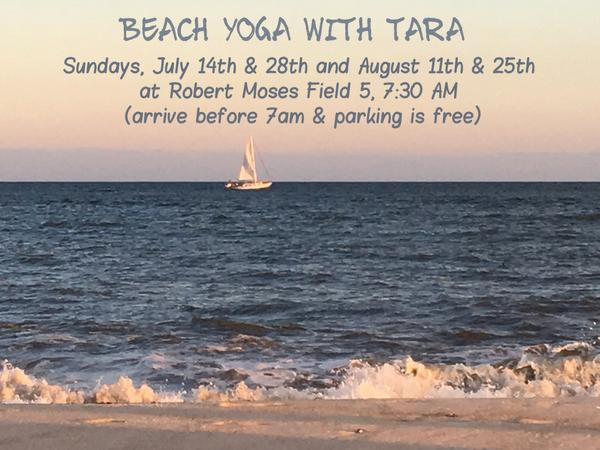 Robert Moses Field 5
(arrive before 7 AM and parking is free)
Classes will consist of yoga postures, yoga breathing and meditation.  We will end with a variety of meditation techniques utilizing our beautiful surroundings.  Feel free to bring a mat and sheet or blanket to place your mat on and any other items you may need.  You may want to dress in layers, it can be cool in the early mornings at the beach.  Also, feel free to pack whatever you may need to stay on the beach after class!  Food, sunscreen, etc…
Classes will be held at Robert Moses Field 5 (in our usual sunrise meditation spot) all the way to the furthest east entry point from the parking lot- so pull in and drive all the way to the left!
---
Sunday, Sept. 1st at 5:45 am
Our Annual Sunrise Meditation is Sunday September 1st, at Robert Moses State Park, Field 5.
We will meet at 5:45 am. We will do some asana, chanting and meditation and watch the sunrise. Bring food if desired, blanket to sit on and dress for the weather.  Sunrise is at 6:19 am.
There is no charge for parking at that hour and the meditation itself is free! If it rains, it is cancelled.
---